Working with Blast again, we were asked to create a promotional trailer for the 'Above and Beyond' exhibition at the National Maritime Museum, Greenwich. The exhibition ident already existed, and we were provided with the promotional materials, and script…it was up to us to create the moving content from this. As we only had 2D elements, we chose to recreate the rockets and planes needed in 3D, so we could combine them with stock footage, and achieve the necessary drama to match the style of a summer blockbuster trailer.
The exhibition is also heavily interactive, but we didn't have access to footage that we thought we could use. Using reference from the exhibition itself, we filmed 4 children and added HUD style graphics.
We also re-purposed the elements to create a super wide format loop for the ticket hall screens at the museum.
Achieved on a low budget, this is actually a slightly extended version of the final trailer.
"I just wanted to let you know that EVERYONE at RMG (Royal Museums Greenwich) and Boeing are extremely impressed with the trailer. Boeing have said and I quote 'it is wonderful' and better than anything else they have produced. So, wanted to say a big well done and thanks to the team who worked on this." – Zeena Virani, RMG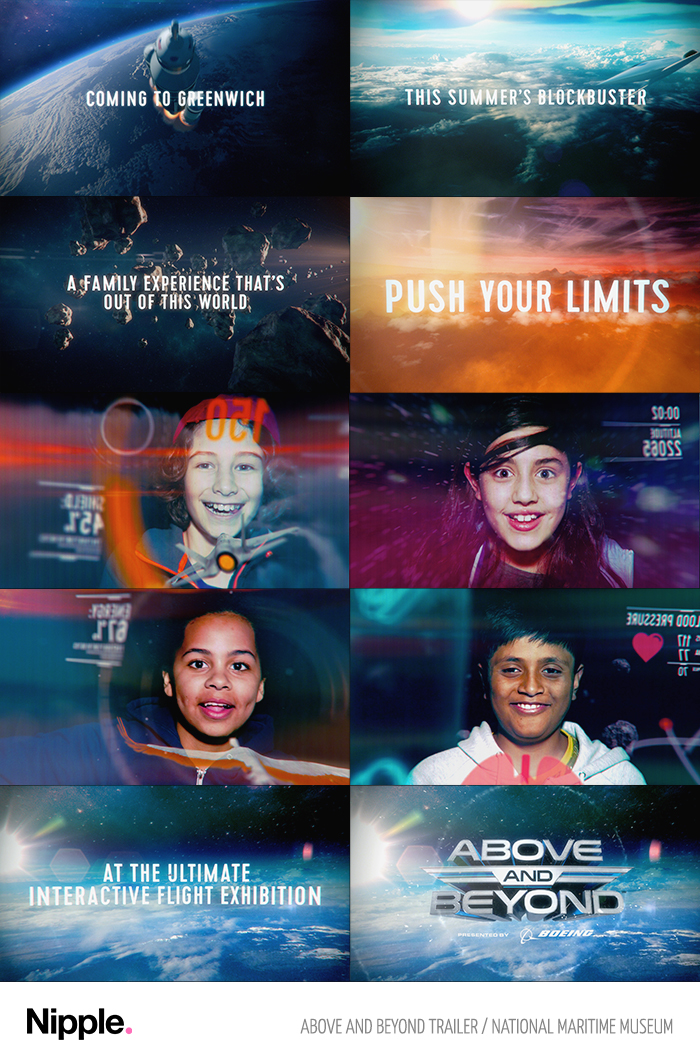 NATIONAL MARITIME MUSEUM / ABOVE AND BEYOND TRAILER
Categories →
Animation
Live action
Client →
NATIONAL MARITIME MUSEUM, GREENWICH