We were approached by
Blast
to work on an animation to help explain the sometimes controversial subject of 'Gene Editing'. The brief had come from
Wellcome Trust
and
The Royal Society
. They felt that there wasn't a film available that explained the subject in a way that most people would understand. Yes, there are many films that touch on different elements of the topic, but they tend to be too scientific and beyond most peoples comprehension. They wanted a film that crossed over, and explained the concept in more relatable terms, both the positives and the negatives in a hope to inform, and open a constructive debate.
We first helped develop the script with Blast, making sure the tone was right, and then produced a detailed storyboard. There was no look and feel or any existing elements, so we not only created this but also the illustrated elements….and of course the animation.
For us, this was all about tone. The subject matter is not only scientific, but also covers some uncomfortable, sensitive and human topics, that had to be addressed with care. The whole film also had to be neutral, presenting both the positives and negatives equally. We hope we managed to achieve all of this with a light touch, and have made a film that makes a tricky topic understandable, and contributes to the debate.

Share: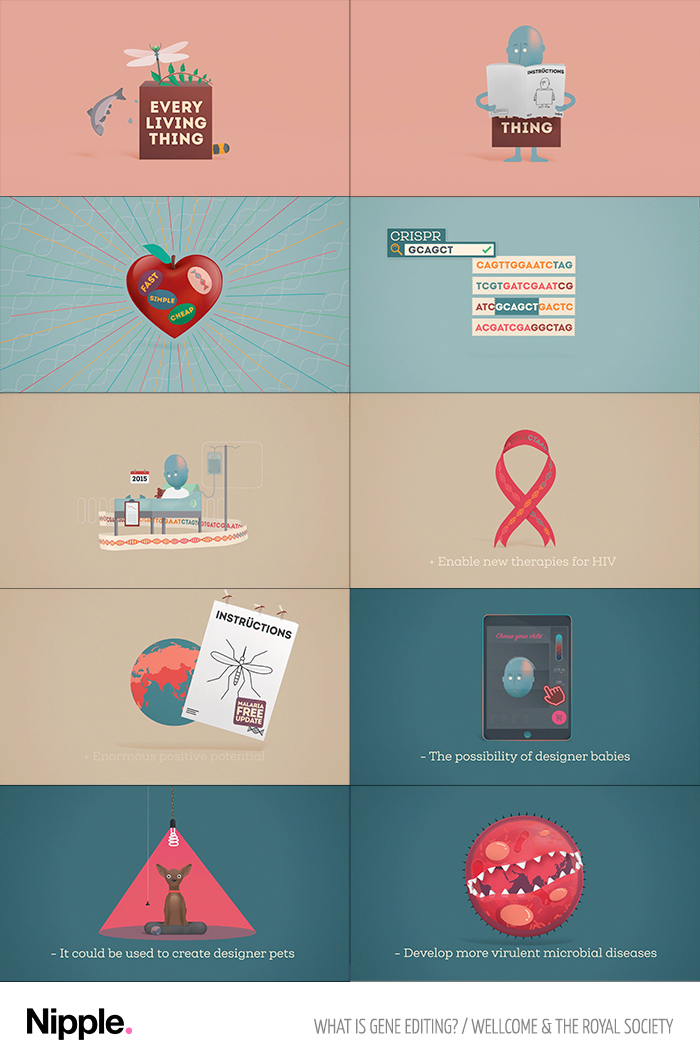 WELLCOME & RS / WHAT IS GENE EDITING?
Categories →
Animation
Illustration
Client →
WELLCOME TRUST / THE ROYAL SOCIETY