When asked to create the DVD menus for 'An Evening with Noel Fielding', we decided to recreate the poster illustration, by
Jim Stoten,
in plasticine. This was a daunting task, but it gave us the ability to animate the separate elements without having to deconstruct the original artwork.

Share:
Comments Off

on AN EVENING WITH NOEL FIELDING / UNIVERSAL

•
by nigelcoan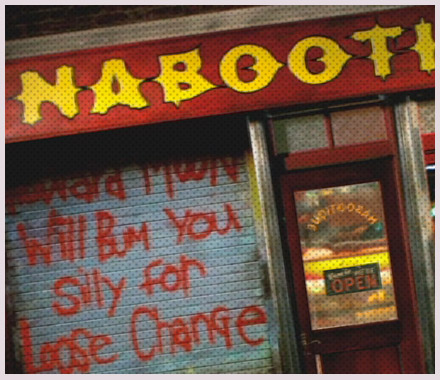 Again collaborating with
Ape Inc
, we were asked to create the menu system for the The Mighty Boosh series 3 DVD. Using the shop, Nabootique, as a starting point, we created a 360 degree panoramic image, and used the elements in the shop for different parts of the menu.

Share:
Comments Off

on THE MIGHTY BOOSH / SERIES 3 DVD MENUS

•
by nigelcoan
Working with
Ape Inc
, we created the menu system for The Mighty Boosh – Future Sailors tour DVD.

Share:
Comments Off

on THE MIGHTY BOOSH / FUTURE SAILORS DVD MENU

•
by nigelcoan